My style draws upon children's book illustration from the 50's 60's and 70's. The work is made by cutting sections out of thin card, layering them, allowing each consecutive layer to show through.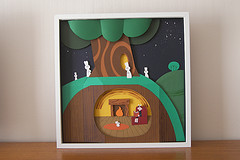 My aim is to produce work that is ambiguous, yet evocative, leaving space for the viewer to form their own conclusions.
When exhibiting with my wife we often create a story and hang the work in sequential order alongside narrative sections to create a more integrated role between the artwork and the viewer.
The models are sculpted from polystyrene and mixed media materials, and then covered in air drying clay. I draw influence from the sculptors Giles Penny and Philip Jackson, for their representation of the human form, often in quirky humorous ways. Within my naturalistic themes the solitary everyman is often portrayed with his eyes closed as though in sleepy contemplation or with a menagerie of animals in playful interaction.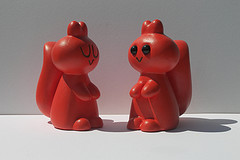 Recently I have started making the models on a larger scale using resin intended for an outdoor setting.
I have also begun working in ceramics making slab built and slip cast pieces using refined shapes to create simple striking forms.
I studied illustration at the University of Wolverhampton graduating in 2000.